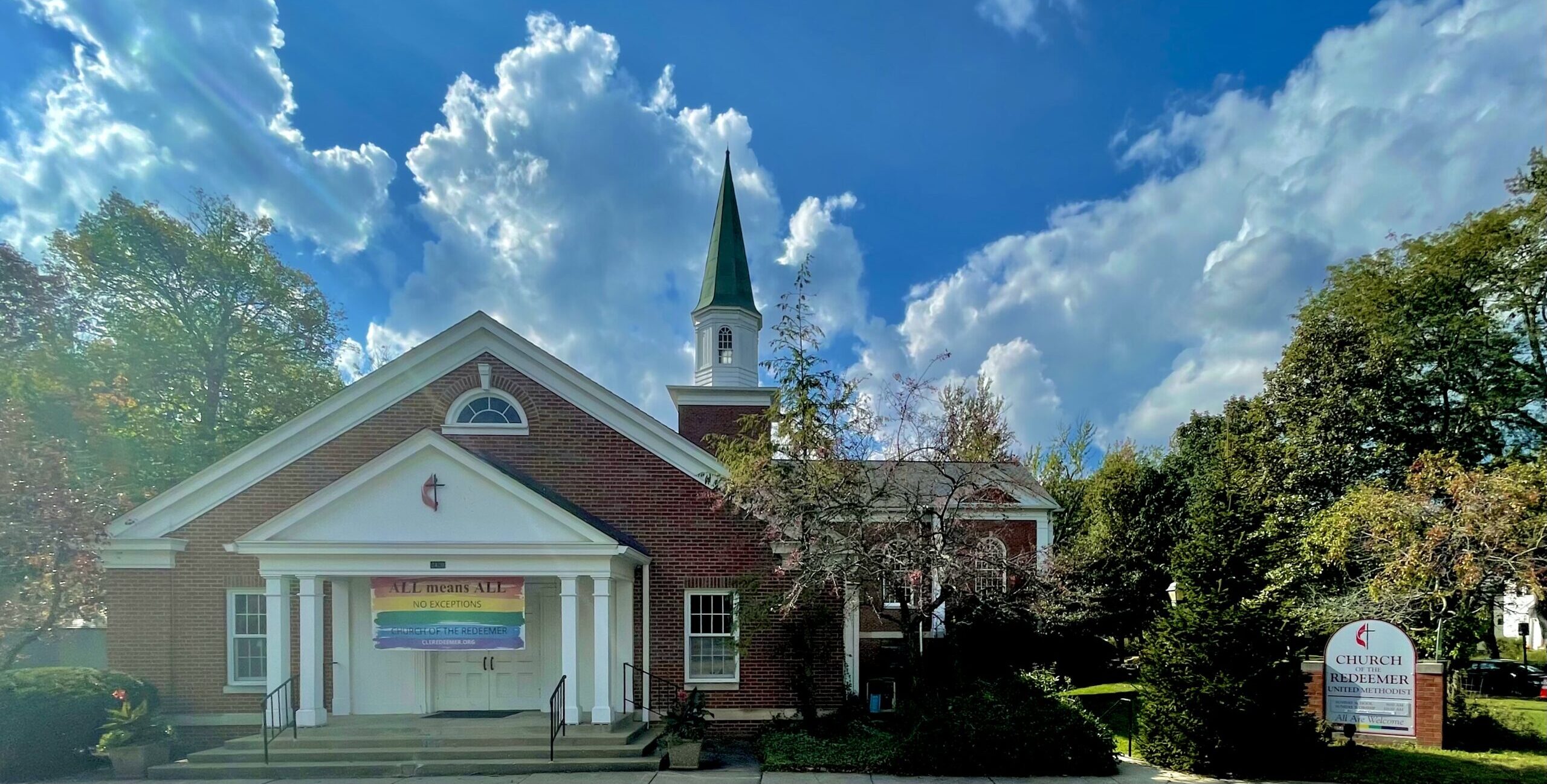 The Reconciling Story at COR
Church of the Redeemer UMC voted to become a Reconciling Congregation in 1994.
Carolyn Craft remembers sitting in Ken's Sunday School class, with at least 20 other people, when the class began to discuss what they would study next.  Someone, maybe Ginny Goodwin, said, "I think we should study homosexuality because we may have people here who are homosexual."
Back then, in the late 80s, Mrs. Riley and Sally concur, there was some movement within the Methodist church to consider how the church should deal with LGBTQ people and LGBTQ issues. Mary Ann Kerr thinks perhaps it had to do with the AIDs epidemic. She remembers that Reverend Sally sent her to a conference on AIDS and the church. She remembers listening to young men who shared how they had been turned away from the church when they needed it the most.
Anyway, Carolyn remembers sitting in that Sunday School class and looking around at all the other members, many of whom were gay, but not out of the closet. It was going to be a rollercoaster ride.
Sally Dyck says that out of that Sunday School class came a statement and a question. Did Redeemer want to become a reconciling congregation. She welcomed this opportunity.  At first, no one talked about homosexuality at Redeemer but as there were more and more gay members, it became increasingly unsafe to NOT talk about it. With her leadership, COR began what was a Wesleyan process – a process of discovery through the study of scripture, tradition, reason and experience.
Carolyn Craft remembers being scared to death. It was like coming out 20 times at one time. She hadn't been too involved in church politics because of fear – just plain fear. You just hoped you wouldn't get found out. When the quartet was formed, however, it was a gay quartet. The quartet was encouraged by folks like Mrs. Riley and Lorene Holland, Phil's mom, as well as Ken and Sally. Singing with the quartet seemed to open some doors for Carolyn, it seemed to bridge a gap – "Hey we're all here worshipping God, experiencing God's grace and the beauty of learning who we are and whose we are." She says that "Through Sunday School and through music, it created conversation. When people decide to sit and talk and exchange information, you learn."
James Graham and David Dusek began attending Redeemer around this time. James shared that, "As soon as we got here, people started the conversation. We chose not to join until the decision was made because it didn't seem right to vote as new people. Everybody knew we were a couple. There were painful conversations. The church brought in people from the outside to allow both sides to speak their piece. One of the guests was promoting conversion therapy. It was a thoughtful, democratic process. It wasn't just pushed through. I didn't speak up. We just sat in the back. I remember being proud afterward that we were the first church."
Jane Finley remembers that some members of the church told stories about their gay children and the struggle to support and love them –while dealing with the fact that some of their friends wanted these parents to condemn their own children. She said, "The sharing was very powerful in terms of taking it out of the theoretical and into the real." And, "People really found their edges and had to come to terms with their beliefs."
Carolyn Cacho Bowman remembers that she didn't see what all of this had to do with church and Sunday school. But then Denise Reading asked everyone, "How many of you put your hand on your partner this morning? Did you think about it? When I do, I have to think about it." That was when she realized that there were people being discriminated against and she was not paying attention. "I was supposed to pay attention because that's what Jesus called us to do," Carolyn told me. "When I voted yes other people became visible to me, my Aunt Amelia, and my cousin Winston."
Another new member at this time was Kari Sharpe who said, "Right before we joined, my daughter Rebecca showed total surprise that her friend was adopted. Her friend was Korean with white parents but all she saw was a family." Coming to COR felt like an extension of what she wanted her daughter to understand–that anybody could be a family.
When her cousin Michael died of AIDS there was such ugliness, and at that point, she knew it was God's cause. COR was a breath of fresh air.
As the Redeemer family began to see each other, and as gay church members began to feel safe coming out, there were more and more conversations. Carolyn Craft says, "You didn't just do it on Sunday. It stayed with you throughout the week and the years. I never felt like giving up. Once I came out, more and more people started sharing conversations."
For those who came out at church, they may not have opened the door, but the door opened for them. Jane says, "The door swings both ways. It has to feel safe."
The process took two years. They had listening sessions. Sally said the listening sessions were scary and the negativity came out. Sally said that the church realized they needed to learn how to talk and so the church worked on compassionate communication for awhile.
Later, Phil Gillis challenged Sally by telling her, if we can't do this with joy, then we should just give up. After a group from Chicago came and performed a musical called "Home" the church become re-energized. So the church held another series of listening sessions. Listening sessions were difficult because they kind of burst people's bubble about how inclusive Redeemer was. Yet…
James Graham remembers how Mrs. Riley spoke so persuasively and lovingly about becoming reconciling – Although she was born in 1915, she was an outspoken, modern advocate for social justice.
It must have been voices like hers that held the church together long enough to really listen to each other. And the patience and care of people like Ken and Sally, acting as midwives to this re-birth of a congregation.
The day of the charge conference came. Some people who had not been active members came to the church that day just to vote against reconciling.
Mary Ann Kerr remembers it was a tense time. She was working with people who had HIV and AIDS, her daughter had just come out, and that was a shock. The sanctuary was filled and the balcony too. Mary Ann Carlson was there. She had been pushing for it in her quiet head-nurse way. But when push comes to shove, you don't vote in favor of discrimination, for goodness sakes.
Carolyn remembers sitting up front while the ballots were being counted. She was wondering what she would do if the vote was against. She was optimistic but scared. While everyone was waiting, Pat Skinner got up and led the congregation in singing, and that kind of helped to center people and calm them down. She says, "When they made the announcement, I felt like I was going to dissolve in a puddle on the floor. It wasn't a big hurray. It was somber and quiet. Some people left. I didn't want to turn around and look at those who were voting against it."
There were two votes that day. One vote was on whether Redeemer would be an open church. That vote passed by 80%. The second vote was on becoming a reconciling congregation, and that vote passed by 60%.  It wasn't a moment of victorious rejoicing, but the people who voted yes were proud of what the church had accomplished and of the Christian and Wesleyan process that they had followed to its resolution.
Mary Ann Kerr says, "As soon as it happened it became a part of who we are, and that was us."
Mrs. Riley called that process "wrestling," and I'm going to end with some words from her:
It's easy to talk the talk, but it's kind of hard to walk the walk. So only 60% of us voted to join the reconciling congregation program. There were a lot of broken hearts, a lot of tears shed, and there were some who just could not do it and they withdrew. But God is in control of his people, and I have said not one time but many times, that this church is God's church on this corner. God has chosen us as he chose the people of Israel to be his people, to be a model of what his church is all about. As I look out on this congregation this morning, I'm looking at ALL of God's children.

And I think the people who pass this church know that this is an unusual church.

God is with us–as long as we love as he said love, and as long as we keep the door open wide, so wide that you can't go over it, so low that you can't go under it, but so wide that all can come in and feast at the table of love. Congratulations. You're doing a good job. You haven't reached perfection yet, but keep going. God IS with you. Amen.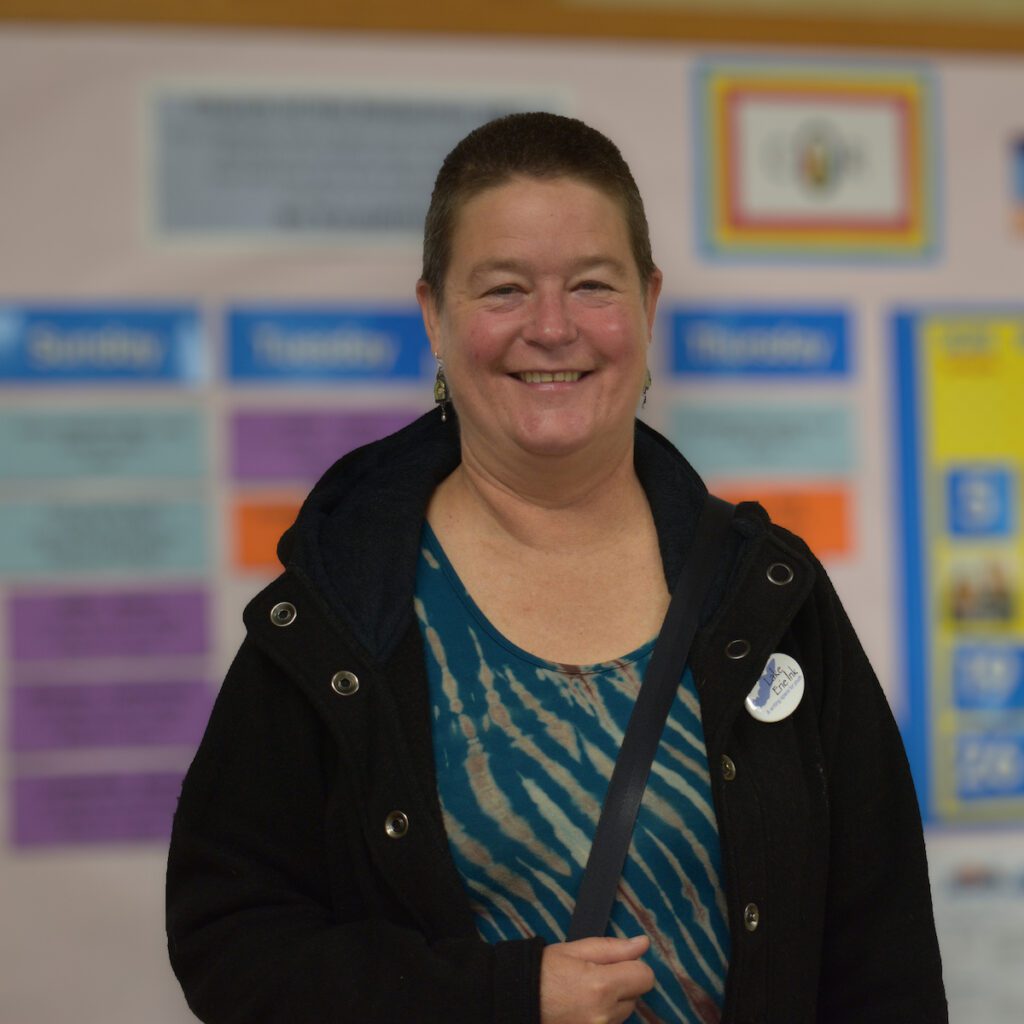 Written by Cynthia Larsen. 
I want to thank the following people for sharing their memories with me: James Graham, Jane Finley, David Dusek, Carolyn Cacho Bowman, Kari Sharpe, Maryann Kerr, Carolyn Craft, Bishop Sally Dyck and from the background during the phone call, her husband Ken Ehrman. I also want to thank Jane Finley for sharing a cassette tape from Redeemer's fourth year of being a Reconciling Congregation, in which Mrs. Riley tells the story of reconciling in her own inimitable way.  I'm going to try to weave these stories together to give everyone a sense of the hard work and struggle that it took to reach this place.